I'm trying something new this year: I'm entering Dance Advantage's
Top Dance Blog Contest
. It seems like a great way to network with other dance styles, and another way to help other dancers become more aware of Irish dancing.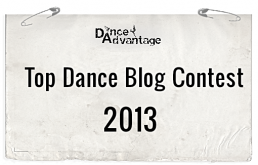 Vote for me by commenting on this post!
With that being said, I need your help!
To vote for me to become a finalist in my category (Recreational Dancer), all you need to do is
leave a comment on this very blog pos
t!
Say hi, write about your favorite part of Rince go Bragh... anything!
I have until January 22nd to gain as much support as I can from Irish dance fans everywhere.
Thank you in advance for your support, and have a wonderful start to your new year!
Goals: Re-choreograph hornpipe 2nd
Days till NANs: 174