The list of finalists for the Top Dance Blog contest is up! Thanks to
your
lovely comments on my previous post about this contest, I have made the finals for both overall favorite dance blog, as well as my category, recreational dancer!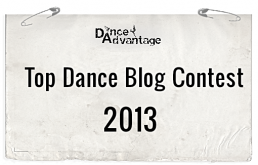 Here's where I kindly ask for your support just once more:
Visit this website to vote for Rince go Bragh to win Favorite Dance Blog and Recreational Dancer!
You may only choose one blog in each category.
The voting will close at 10pm EST on January 31st!
Thanks again for your support you lovely readers you!
Goals: Loose ankles for trebles
Days till NANs: 163